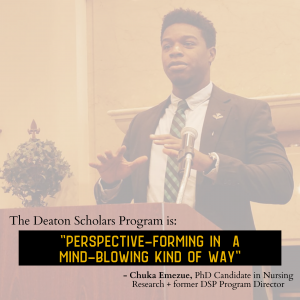 Meet Chuka Emezue, a Ph.D. candidate in Nursing Research and former Deaton Scholars Program Program Director
Year in School: PhD
Academic Area: Nursing Research 
As the founding director of the Deaton Institute's Deaton Scholars Program presented Chuka Emeuze (PhD candidate in Nursing Research) the "extraordinary opportunity" to supervise MU students who demonstrated a commitment to community service, academic citizenship, and globalized socialization, going on to develop projects responsive to community hunger and food insecurity for vulnerable groups from rural communities to refugees and immigrants, as Deaton Scholars each semester. "Some of these projects were funded by seed grants from the DI and the University of Missouri," Emezue said.
What is something new that you learned as a result of your time with the Deaton Scholars Program? "I learned to appreciate the beauty of interdisciplinary and transdisciplinary collaborations. Often, when I paired students from different disciplines into dyads, I was enthusiastic by the promises that would come from this union. No doubt, at the end of each semester, dyads presented what I considered highly meaningful solutions to identified food security issues in communities they had come to care for. These solutions often came from a place of well-reasoned action (and even professional compromise), as each member of the dyad dug deep into the background to find a solution that combined their expertise to uniquely identify and solve a specific problem." (Editor's Note: When Chuka Emezue was program director, the Deaton Scholars Program was structured as a protége-mentor partnership with two students working together on projects)
What was your favorite event during the Deaton Scholars Program and what was your biggest takeaway from that event? "Planning the DSP program from initiation to graduation was thrilling and pushed me to work with what we had; of course, Brady, Anne, and Vicki were always there to bring these plans to realization. At the end of each semester, I enjoyed the graduation events where we said goodbye to our DSP cohorts. At these events, I enjoyed the keynote speakers Brady and Anne would invite – several come to mind. Each one came to us with a wealth of experience that was at once edifying and inspiring. Typically, I was all over the place and would miss out on most of the event, but I could tell the students treasured the program and the experience. I have had to discuss with DSP graduates, and to review CVs and I'm always pleasantly glad to see MU students (grads and undergrads) list the DSP as a resume entry."
How did your time in the Deaton Scholars Program impact your future career ambitions or aspirations, or your time at the University of Missouri? "Even though I focus now on domestic violence prevention, specifically working to rehabilitate abusive boys and men, food security remains an issue close to my heart. In my research I find that food insecurity and nutritional deficiencies are intricately linked with stressors in the family, that may reinforce aggressive and abusive behaviors. Food security – as a proxy for poverty and low resources – remains a mainstay in my research planning, especially as I am committed to engaging vulnerable rural/youth/immigrant cohorts in the planning and implementation of solutions attuned to their unique needs. All of this is under the aegis of participatory community research, a concept that the DSP has helped crystalize for me."
What advice would you give to new Deaton Scholars? "Come into the DSP with a game plan. Like the Zen proverb says – "…come like an empty cup, ready to be filled up." Why are you here? What are you hoping to accomplish? There are numerous skills you will develop in your brief time with the DSP. Identify them. Savor the moment you realize you've developed a new skill. Hone and hold on to them as they will take you far in your professional and personal life. Also, try to learn from the people with whom you will work. Like you, they come from a wealth of experience and can be supportive in many ways. In this same way, try to be a beacon of support to other scholars – some of whom are new to all of this. Lastly, (since I'm on a roll!) young people are our future, and from what I've seen, if they are all we've got, I know we are in good hands."
"The Deaton Scholars Program is perspective-forming in a mind-blowing kind of way."'
/
Do you want to form your perspective in a mind-blowing kind of way? Are you interested in the intersections of food insecurity to issues like domestic violence prevention, public health, education, immigration, and poverty? Applications to join the Fall 2020 cohort are open until August 28, 2020, for all undergraduate, graduate, professional, and international students at the University of Missouri. Apply today!