The Deaton Institute and University of Missouri were pleased to host a virtual conference April 12-15, 2021 with the title Within Reach: Zero Hunger.
See the Within Reach – Conference Workbook for the full list of our generous sponsors and speakers who fostered an incredible discussion among students, faculty, staff and community members.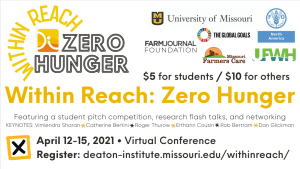 Panels included:
Opening Session – Watch on DI Channel.
Agriculture Technology – Unlocking the Future
Higher Education – The Power to Transform
4 Executives. 40 Minutes. 40 Ideas. Social Impact Ideation Session – Watch on DI Channel.
The Changing Hunger Approach – No One Size Fitas All
Impact of Science: Scientific Advancements for Zero Hunger
From the Ground: Community Success Stories
Women in Food Security Leadership – Watch on DI Channel.
Policy Changes Needed Now
Public Health, Nutrition and Food System in a Post-COVID World
Keynote speakers included:
Catherine Bertini – Watch on DI Channel.
Rob Bertram
Roger Thurow
Dan Glickman
Ertharin Cousin
Vimlendra Sharan