Within Reach: Zero Hunger
The Deaton Institute for University Leadership in International Development is excited to announce the inaugural Within Reach conference, with the theme of Zero Hunger hosted April 12-15, 2021, on a computer screen near you.
With renowned World Food Prize Laureates, international food security powerhouses like Catherine Bertini and Roger Thurow, and many scientists, business executives, and others, this conference will inspire, empower, and challenge students to take action against hunger in a world plagued by the ongoing COVID-19 pandemic, virtual education, and economic hardship.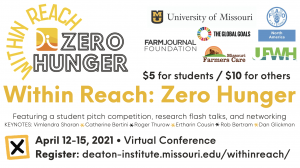 Registration is LIVE! Student cost is $5, with all other attendees being $10. Group/university registration packages, side events, and sponsorship opportunities are still available – inquire with Holly Enowski, our Director of Strategic Partnerships, at henowski@mail.missouri.edu.
If you are a current student/faculty at one of the following universities or participate in one of the following organizations, please email deatonscholars@missouri.edu to receive your code for admission.
Universities Fighting World Hunger Summit 2021
University of Missouri – Columbia, MO
North Carolina State University
PROGRAM SPONSORS
Presenting Sponsors:

Food and Agriculture Organization of the United Nations (FAO) North America
Universities Fighting World Hunger
Missouri Farmers Care
Farm Journal Foundation

Conference Box Sponsor:

Shelter Insurance (Columbia, MO)
–
Student opportunities:
Upon registering for the conference, students will receive a survey to denote interest in various panels and roundtable discussions held on April 15th, and to submit their resume for up to 1 page of personalized feedback.