Within Reach: Zero Hunger
The Deaton Institute for University Leadership in International Development is excited to announce the inaugural Within Reach conference, with the theme of Zero Hunger hosted April 12-15, 2021, on a computer screen near you.
With renowned World Food Prize Laureates, international food security powerhouses like Catherine Bertini and Roger Thurow, and many scientists, business executives, and others, this conference will inspire, empower, and challenge students to take action against hunger in a world plagued by the ongoing COVID-19 pandemic, virtual education, and economic hardship.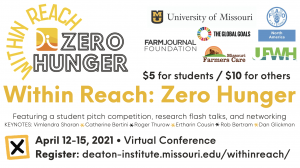 Registration is LIVE! 50 SPOTS LEFT.
Registering does not grant you immediate access to the conference.
It is a 6-12 hour turnaround time, so please be mindful of that and plan accordingly.
If you are a current student/faculty at one of the following universities or participate in one of the following organizations, please email deatonscholars@missouri.edu to receive your code for admission.
Universities Fighting World Hunger Summit 2021 attendee
University of Missouri (Columbia)
North Carolina State University
Culver-Stockton College
Penn State University
Missouri S&T (Rolla)
University of Kentucky
VA Tech
University of Nebraska-Lincoln
University of Illinois at Urbana-Champaign
Christopher Newport University
World Food Prize Youth Institutes
National Peace Corps Association
University of Guelph
PROGRAM SPONSORS
Presenting Sponsors:

Food and Agriculture Organization of the United Nations (FAO) North America
Universities Fighting World Hunger
Missouri Farmers Care
Farm Journal Foundation
Mary Christie Institute

Conference Box Sponsor:

Shelter Insurance (Columbia, MO)
Convoy of Hope (Springfield, MO)
–
Remaining student opportunities: (First come, first serve!)
*Students must be registered for the conference to take advantage of these opportunities