The Deaton Institute was founded in 2013 by Chancellor Emeritus Brady Deaton and Anne Deaton, Ed.D. Today, our work utilizes the unique strengths of the University of Missouri's global relationships and exceptional extension abilities in championing methods of strengthening global food systems, alleviating extreme poverty and hunger prevention. We use empirical and evidence-based solutions to tackle critical food and hunger challenges with academic and higher education expertise.
In addition to the organization of learning events around local and global food security and participation in local and global applied research conferences, the DSP provides process-based support to students interested in collaborative project development through Collective Peer Mentorship. 
What is Collective Peer Mentorship (CPM)? Collective peer mentorship is a process in which a group of people mentor each other to foster personal and professional growth. Within the DSP program, a group of five Mizzou students benefit from the richness and diversity of their disciplinary and cultural backgrounds to build synergies through working on a common project.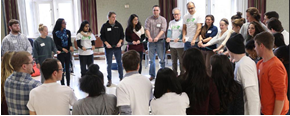 DSP collective peer mentorship is process-based and committed to continuous improvements. Therefore, groups are expected to:
Document how they mentor each other
Explain types of challenges they face during the mentorship process
Provide examples of how they resolve conflicts and misunderstandings
Share the types of resources they would need to maximize their collective peer mentorship
Discuss how their individual differences and similarities shape their development of the project proposal.
How does Collective Peer Mentorship work?  Collective peer mentorship promotes intentional group decision-making by all members of the group with the aim of fostering personal growth. Growth takes place through reciprocal exchange of knowledge, resources, skills, and ideas.Group members will come to realize that the intrinsic challenges of collaborative work and the difficulty in moving outside one's comfort zone yield the high return of enhanced interpersonal, collective peer mentorship skills, and infinite avenues of personal and professional growth.
How are Collective Peer Mentorship groups formed?  Groups will be formed based on two main hierarchical criteria:
Levels of commitment: you have the option to be involved in the program either for one semester or two semesters. Those who opt for being involved in two semesters will have their project proposal considered for implementation during the second semester. This criterion is justified by the need to accommodate DSP participants who have already planned to be involved for only one semester.
Project idea themes: project ideas and interests will inform groups formation. Participants with similar interests will be grouped together.
How do DSP staff and the Student Advisory Board assist during your Collective Peer Mentorship journey?
DSP staff and the Student Advisory Board (SAB) are part of this collective peer mentorship journey. Their roles are twofold: first to nurture the values of collective peer mentorship among themselves since their facilitation of DSP requires harnessing their individual skills and unique competences to coordinate their works, and second to facilitate the formation of collective peer mentorship groups by:
-Forming groups based on their interests
-Forming groups based on their levels of commitment
-Ensuring follow-ups with groups' collective peer mentorship activities
-Responding to groups' needs to enhance their collective peer mentorship experience by providing appropriate and feasible resources including speakers, contacts, relevant documents, and potential advisors
-Assistance with project funding: based on groups' proven interests and commitment to providing regular updates about their collective peer mentorship journey, SAB members can assist in procuring funding for project implementation. Currently, the DSP program allocates funding for a limited number of projects, but we highly recommend pursuing with us the prospect that there will be other avenues of funding on and off campus
-Assistance with project implementation: the DSP community is well connected with different services and professional networks who could be relevant to the implementation of your projects.